It's simple to forget that instant messaging is only a few decades old because it has become so ingrained in our daily lives. In actuality, it was among the most original and groundbreaking things in the world just 20 years ago! Prior to creating groups on Facebook Messenger, sending locations via WhatsApp, and snapping momentary images on Snapchat.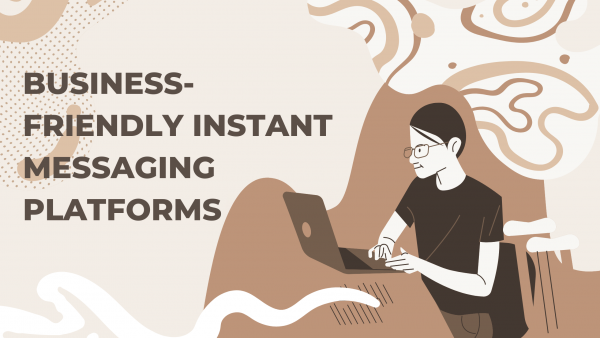 Hyderabad, Telangana, India, 23rd Sep 2022, King NewsWire, There is no better moment than the present to switch to using instant messaging systems for your business if you haven't already done so. In comparison to email and social media, which are preferred by 29% and 16% of online shoppers, respectively, live chat has emerged as the most popular digital communication option.
Teams that are cohesive internally produce more and are happier. More than half of office workers (54%) cite their coworkers as the main source of job pleasure, topping even their pay (40%) and the actual work (42%) in this list.
Not to add, the workplace is increasingly moving outside the four walls, with 71% of workers already working mostly or entirely from home as a result of the internet. By the end of 2022, it's predicted that 25% of all professional positions will still be entirely remote. Secure instant messaging apps for businesses are growing in popularity due to the world's rapid technological advancements, which positively impact workflows, staff retention, and external and internal communication.
People utilized two separate apps in the early days of instant messaging to communicate. There was ICQ, a program created by the Israeli business Mirabilis, on the one hand. It was among the first to permit conversing with family, friends, or total strangers. AOL purchased ICQ in 1998. Yahoo! Messenger, which debuted in 1998, was an alternative. Through this program, users may speak with one another, share images, and conduct video calls.
Instant messaging is one of the most widely used forms of communication nowadays. Some of the most popular programs include Troop Messenger, Slack, Microsoft Teams, Google Hangouts, discord, 
A program or application for instant messaging and asynchronous communication with your coworkers or business partners is called Team Messenger for Instant Messenger for Business. You can collaborate on projects, offer technical support, respond to inquiries, and give feedback using such platforms.
You should consider the following qualities when selecting a messenger
Channels. Specialized content areas that let you quickly distribute information to hundreds of employees
Security. End-to-end encryption and cryptographic techniques that safeguard private data.
Cross-platform. the ability to access the app from any computer, Mac, or mobile device
Cross-platform. the ability to access the app from any computer, Mac, or mobile device.
file exchange the ability to send any type of file (PDF, XLS), as well as uncompressed photos.
Integration. Possibility of integrating your application with CRM or CMS to increase the scope of your work-related capabilities. mobile.
What is instant messaging software for businesses?
Using a desktop or mobile device to communicate with customers externally is made possible by messaging software. The greatest instant messaging apps are consequently well-liked by users and have a complete ability to interface with your internal business processes on the business-to-customer side. Platforms, however, differ in how much message management and chatbot automation they offer.
Internally, business instant messaging links executives to groups and employees with specific roles. Internal corporate instant messaging is carried out via desktop computer software and mobile messaging apps that company personnel has downloaded. The finest options are reasonably priced, simple to use, and adaptable. all the best screen sharing apps down below
Troop Messenger
Troop Messenger is a real-time messaging tool and screen sharing app that assists medium-sized and large organizations in managing team cooperation and communication. With multi-location access, virtual meetings, and audio/video conferencing, it provides a secure instant messaging platform that enables users to communicate with colleagues throughout their whole organization, discuss projects and exchange ideas.
Numerous features are available, including one-on-one messaging, group chats, contact search, self-messaging, discussion history, usage metrics, audio messaging, and more. Troop Messenger has an interactive dashboard that offers a single view of team cooperation, favorite profiles, locations, employment data, and reporting hierarchy for all users as well as all individual users. Users may collaborate remotely and share their desktop thanks to Troop Messenger's screen sharing and multi-device access.   
Slack
Slack, which has more than 1,500 integrations and 10 million active daily users, is the second-most widely used workplace instant messaging service. You can do this to build private channels for partner company collaboration or to simplify internal corporate communications. Built-in features include screen sharing, audio, video, keyword alerts, and automated reminders. In addition, Slack's security features corporate key management, two-factor authentication, and data encryption.
You can compose instructions, talk with coworkers from your own firm and others, manage task chains, and automate repetitive tasks in Slack (e.g., repetitive responses, and collecting feedback). The All Unread tool displays all unread chat messages. The administrator alerts everyone that they must update their passwords via Kill Switch. Your team has access to the most recent 10,000 messages and 5 GB of cloud storage in the free edition.
Microsoft Teams
With 13 million daily users, Microsoft Teams is the dominant commercial instant messaging platform. Microsoft 365 is one of its 200 connections, enabling collaboration across the complete Microsoft Office suite without ever having to leave the app. The T-bot and Who-bot can search the whole workplace intranet to find crucial information. Additionally, you can have internal team communications in group chats or private chats.
You may make channels and group chats with Microsoft Teams. To enable smooth document collaboration while utilizing Office 365 programs, the solution offers integration with the company's unique services. For instance, group members can collaborate on editing Word, Excel, or PowerPoint documents right inside the program. The software's capability allows for the employment of bots that handle notifications and request responses.
Google Chat
This is the instant messaging service that Google offers, and it is integrated with Gmail. AIM and MSN Messenger are quite comparable to Google Chat, and both have the same functions (including voice and video chatting). Group chats are available in Google Chat, and participants can contribute photos, emojis, and their location. You can use the search feature to filter results based on chats and shared content. With Google Meet, your chat may be converted into a video call for up to 9 people.
 The two apps that make up the replacement for Google Hangouts, along with Google Meet, were first released on March 9, 2017, under the name Hangouts Chat. On April 9, 2020, Google Chat was given the name. Google Chat was initially only accessible to users of Google Workspace, but starting in February 2021, it started to roll out to regular consumer accounts with "early access" before going live in April 2021. Early in 2022, Google discontinued the original Hangouts and switched to Chat.
Discord
Discord is cross-platform and accessible from anywhere. For Windows, Mac, Android, iOS, and even Linux, it's free to download. It can also be used directly in a web browser without having to download anything. Therefore, you can use it when playing on your game console as well as if you're out and about and want to stay in touch.
Through a server, Discord enables friends to have private or group chats. It allows you to screen share, have audio chats, video conversations, and direct messages with your buddies. When you are on a server, you can join a voice chat channel to communicate with other players who are engaged in a certain game. Those mentioned above are can Discord Alternative 
Conclusion
Your team may utilize other collaborative tools with messaging capabilities in addition to a team messaging app. For instance, certain project management tools provide messaging capabilities. These in-app chat facilities are helpful for facilitating conversations about the current project, but they are not appropriate for more casual chats like hearing updates from your organization's leadership or top management or running a virtual book club among coworkers. 
The selections below are the result of all that testing: the top six screen sharing apps on the market
Therefore, having both messaging applications and other collaborative tools that offer more communication channels has certain benefits. The most crucial thing a team messaging app can do is help every team member by providing them with one of the numerous tools they need to communicate and collaborate.
Media Contact
Organization: Troop Messenger
Contact Person: (+91) 9121755111
Email: [email protected]
Website: https://www.troopmessenger.com/
Address 1: S.S.Arcade, 2nd Floor, Plot #97 & 98, Kavuri Hills, Phase 3, Madhapur, Hyderabad, India" 500081
City: Hyderabad
State: Telangana
Country: India
The post Business-friendly Instant Messaging Platforms appeared first on King Newswire.
Information contained on this page is provided by an independent third-party content provider. Binary News Network and this site make no warranties or representations in connection therewith. If you are affiliated with this page and would like it removed please contact [email protected]